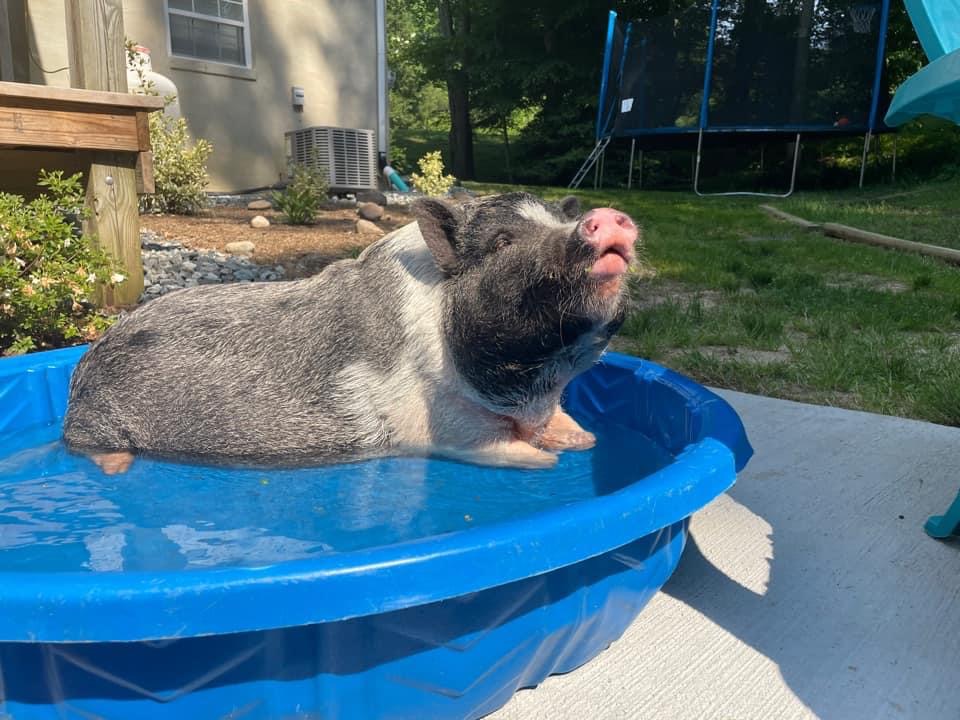 Aquatic Pigs
Aquatic Pigs!  Do you have a water baby or a beach bum who loves going exploring with you?  Pigs love to swim when it's on their own terms.  They enjoy soaking in a pool, swimming in the rivers, strolling along the beach line.  There are just a few skills that your pig show know before heading out on their water adventures.  Harness and leash, come, sit, and wait, leave it.  You can learn to teach those skills in our training courses by clicking on the links.
So your pig is a pro at loading up and heading out to hit the water!  He or she deserves all the recognition you can get.  Whether it's at an exotic location or just in the backyard.  We just need your video submission of their fun in the sun.  Take a short vid or a compilation of several videos and upload them to your favorite video host, such as YouTube, TikTok, Instagram or Vimeo and share the link in the form below.  Your pig will be awarded his certificate of recognition for all that splashing around.  Don't forget the sunscreen of course!
Those trips to the beach, riverways, or whatever your pig's favorite location maybe are helping your pig to become more well mannered and accepting of change.  Great qualities for any pig.  This is great exercise for keeping your pig in prime swimwear shape!  Your encounters are great educational opportunities to share the truths about pig ownership.  Way to go beach bums!
We look forward to seeing your video.  Be sure to post a pic of your pig with their award in your favorite Facebook groups and on social media.
Award Programs
This form is used for all award program entries.