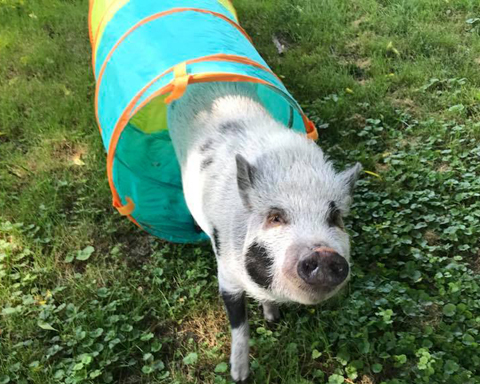 Agility Pigs
Agility Pigs!  Does your pig practice the special skills that are included in agility courses or obstacle courses.  There are many fun props and obstacles that can be included.  These can all be found in our training courses.  This can look intimidating, but taking each task step by step with the instructions our courses provide makes this an easy skill to teach your pig.
Some of the favorites are weaving poles or cones, teeter totter, pause or wait box, hula hoop or hurdle, tunnel.  You can get creative and make your own obstacles.  There are instructions to making an obstacle course with PVC.  You can also find some fun agility course kits for dogs found on Amazon.
The agility course can be a lot of fun for both you and your mini pig.  The course really works your pigs brain in a way that keeps them very focused on each obstacle or task they must preform as you ask them.  As a result, you will have a pig that is calmer, more manageable, better behaved, and likely to sleep better.  The agility course is also great exercise for your pig.  Practicing the course can help your pig stay fit.
Is your mini pig ready to claim his or her award?  Complete the form below.  Video your pig completing the course or create a collection of  vid of each successful obstacle.  Upload to your favorite video host, such as YouTube, TikTok, Vimeo, etc and share the link in the form.  If you are not video savvy, no worries.
Award Programs
This form is used for all award program entries.